Commissions
PERSONALISED CARDS
An ideal gift for someone celebrating a landmark birthday, somone who is leaving their job, or someone that just deserves a card that's tailored especially for them.
HUMOROUS PORTRAITS
Kinder than a caricature, these portraits are gently humorous with lots of personal references to make them exclusive to the client.
All you have to do is supply good quality photographs, and as much information as you can, to help sum up the client and their interests.
CORPORATE CARDS
Make your company stand out with a witty card tailored to your requirement, with the everittoriginals touch.
For promotion, for celebration, for christmas, or for whenever you want to get your business noticed in a unique and individual way.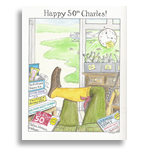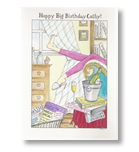 Why have the ordinary
when you can have an original?
All images copyright Alison Everitt. No image can be used in any way without her written permission.